Haller Army and Related Sites Links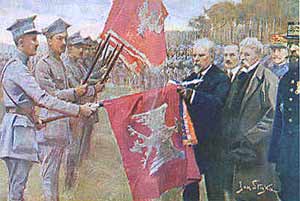 The following sites are good sources of further information and learning about the Haller Army and the history surrounding it.
General Haller Related Sites:
A Tribute to General Jozef Haller and the Blue Army
One of the best sites available!

Polski Internet Site

PGSA Haller Army Enlistment Records:
http://www.pgsa.org/haller.php
Searchable database of Haller Army enlistment records. You can also order copies of these records directly from them.
Polish Roots Website Haller Army Databases:
http://www.polishroots.com/database.htm
A number of databases are available with information on Haller Army members.
Bayonne Legion Soldiers
The Bayonne Legion, composed of Polish troops, was a part of the Legion d'Etrangere of France
Galician Casualty List
Haller's Army - Polish Regimental Casualty Database
Haller's Army: 1918 Italy
Haller's Army - Virtuti Militari Awards
Polish Army in France Casualty List
A list of men who were wounded or killed during military service in Haller's Army
Polish Aviators 1918-1920
Polish Organizations:
The Polish Musuem of America / Muzem Polski w Ameryce
The Polish Museum of America was established in 1935 as the "Museum and Archives of the Polish Roman Catholic Union of America." The first public display area opened on January 12, 1937. Museum contains a number of items related to the Polish Army in France of General Haller.
Located in Chicago, IL, USA
The Polish Falcons of America - now over 100 years old and still going strong!

Polish History:
The Polish Constituion - the 2nd in the world after the US
Created May 3, 1791



We need your help (information and artifacts) to build this site!