Background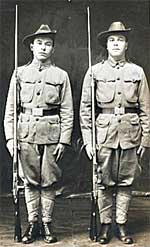 They were sons of Poland
The blood running through their veins was Polish and without a doubt their hearts belonged to Poland. They had moved to America to persue a better life, one of economic and social freedom. But, they never forgot their homeland and its struggle for freedom.
Poland was a former country now divided and ruled by her enemies. She had the 2nd democratic contstitition in the world - (based on the one of the United States) created on May 3, 1791. She had been partitioned three times since 1772 and now Austria, Prussia and Russia occupied her territories.
As WWI broke out and raged on , Poland sat partitioned and occupied. She had once been a great independent nation but was now run by her enemies. Many Poles were conscripted into fighting ... on both sides of the conflict.
Her son's long had sought a way to bring independence back to Poland. With Word War One a time of opportunity was at hand -- as all her enemies were fighting each other.
In Poland
There were a number of Polish partiotic organizations across the world who were working for an independent Poland, each in different manners. In France Roman Domowski, the leader of the far right National Democratic Party, was actively persuing this by way of allegiance with the triple entente - especially Russia. His Polish National Committe wanted to be the new government of Poland after WWI was over. They felt that Germany was the greatest enemy to Poland, and therefore tried to become allies with Russia and work for a soverign Poland UNDER Russia.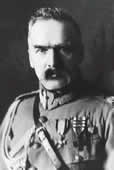 This was greatly at odds with Jozef Pilsudski, who in Poland had been forming his "riflmen" as a precursor to a Polish army. His hope was that the fighting of WWI would weaken Poland's enemies and his men would be able to liberate Poland. Opposite Roman Domowski, he felt that Russia was Poland's greatest enemy and therefor used the Austrian's liberal policies to his advantage. His three Polish Legions fought on the side of the Austrians intially, but eventually refused to take an oath of allegiance to them. For this the I and III Legions were interned for the remaining portion of the war. Pilsudski himself was held in Magdeburg castle. The II Legion tried to switch sides and go over to the Russians. They suffered heavy losses in the process and were no longer a significant fighting force. Their leader was Jozef Haller. He would eventually make his way to France and lead the new Polish army there.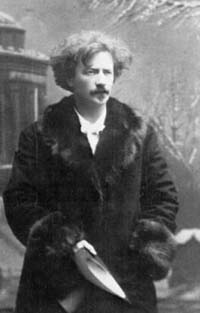 Famed Polish pianist Ignacy Paderweski traveled extensively promoting the idea of an independent Poland to anyone who would listen. Among his goals was for a free Polish Army fighting for the Entente. His fame and hard work brought much attention to the plight of the Poles, especially from then president Wilson who evnetually became an important ally.
Polish Falcons
In America, Polish patriotic organizations like the Polish Falcons of America continued the polish tradition of patriotic organizations focused on the independence of Poland. The Falcons drew immigrants together for the sake of keeping ties with their heritage and their homeland as well as keeping physically fit. They had long hoped for an opportunity to fight for an independent Poland and often conducted paramilitary training while they were biding their time.
After many failed attempts, their opportunity arose when on June 4, 1917 France issue a decree for the creation of a Polish army on its territory. The army was to be made up of Poles living in Western Europe, POW's from the war and Polish immigrants from America. The long time association of Polish fighters and the French Army would be continued. Word was quickly spread and a recruiting and training organizations were rapidly established across the United States.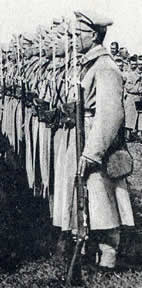 On the surface its goal was to aid in an allied /entente victory. The larger goal was to help Poland regain her independence once the war was over. With this dream of independence, Polish men came from across the world to fight in France for her. The majority of these recruits came from North America, South America & Europe.
Some 20,000 polish immigrants from North America heeded the call of their homeland and volunteered to fight in the Polish Army in France (Armia Polska We Francji). The Polish Falcons of America were instrumental in both the recruiting and training process. They had already established an informal officer's training school in Cambridge Springs, Pennsylvania. They eventually contributed around a third of the total recruits.
These recruits from America were combined with volunteers from other places like South America, as well as with Polish POW's in France and Italy. They were then combined with the various Polish units already fighting in France, primarily the Bayonne Legion which was attached to the French Foreign Legion.
Together they comprised the first free Polish Army since General Henryk Dabrowski and the Polish Legions fought under Napoleon over 100 years previously. They would be instrumental in helping achieve an independent Poland!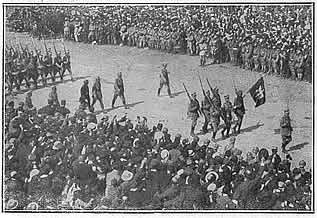 They fought in France in the late stages of the war in a number of battles. When the war was over they were eventually put on trains and transported across Germany to Poland. There they were instrumental in helping to win the Polish Soviet war of 1919-1920, cementing Poland's independence for another 19 years.
They were known as the "Blue Army" for the blue french uniforms they wore and also as the Haller Army or Haller's Army for the Polish general who would eventually be their leader.
It is in their memory and the memory of their deeds that this site is dedicated.
We need your help (information and artifacts) to build this site!