Units of the Haller Army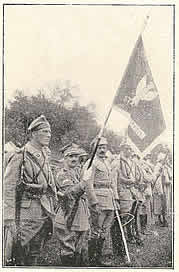 The arrangement of the units of the Polish Army in France underwent many changes in their short life span. After training in Canada, Polish recruits began arriving in France during the summer of 1917 and the fall of 1918. The fledgling group was anything but an official army. The Polish units did not initially serve as an independent force, instead they were directly under French command as a part of the F0urth French Army commanded by General Gourand.
During this time they served as replacements for French units, earning combat experience while at the same time undergoing further training with French forces. Due to a lack of officers, French officers became part of their forces and many of the Polish officers served in other French units for grooming before returning to the Polish units. There was also a officers' candidate school created at Camp le Ruchard to increase the numbers of officers.
On December 17, 1917 the 1st Polish Infantry Regiment was formed and trained at Mailly along side the experienced French Fourth Army. The Polish force was very much lacking in formal training when they arrived so they were taught everything from fundamental drills to more technical services such as artillery and signals. In January 1918 Colonel Leon Jasinski was transferred from the French Army to become their first commander. Later in February they conducted further training in French platoon fighting at Saint Tanche. This continued for 3 months while they were dispersed among French battalions.

Other Polish regiments were being formed at the same time. The 2nd Polish Infantry Regiment was organized at Mayenne and a third at Mailly. Additionally artillery was being prepared at Le Mans and calvary at Alencon. The infantry regiments consisted of three battalions comprised of three companies in each battalion and also a machine gun company.
1st Division
The First Division of Polish Infantry was created under French General Vidalon in the spring of 1918. It numbered 227 officers and 9,965 other ranks soldiers. In June of 1918 French President Raymond Poincare presented the Polish tr0ops with their battle flags in a special ceremony near where they were stationed at Villeres-Marmery (Champagne). It was symbolic of their growth into a fully trained, well disciplined fighting force all of Polonia and Poland could be proud of.
During the summer of 1918 28 more infantry companies were formed in the camps at Lessez, Rotiguy-Ussy and Quintin while new NCO and specialist schools were also being created to advance the level of training.
Although they are now know as Haller's Army or the Haller Army, it was actually not until October 4, 1918 that General Joseph Haller (Józef Haller de Hallenburg) was appointed leader of the Polish Army in France by Roman Dmowksi's Polish National Committee.
Haller had previously been leader of the 2nd Polish Legion in the Austrian Army. After attempting to switch sides and take his troops to the Ukraine, the 2nd Legion was decimated in fighting with the Germans in May of 1918. Haller and a few of his men escaped to Russia. From Murmansk Haller eventually made his way to France and united with Roman Dmowski's Polish National Committee. It was at that point that they tapped him to lead the new independent Polish Army. From then on the Army became known as the Haller Army or Haller's Army in addition to the previous nickname 'the Blue Army' based on the horizon blue color of their French supplied uniforms.
March of 1919 Haller Army Structure
I Polish Corps - General Odra
1st Rifle Division (1 Dywizja Strzelców Polskich / 1re Division Polonaise)
General Bernard
2nd Rifle Division (Dywizja Strzelców Polskich / 2éme Division Polonaise)
General Modelon
3rd Rifle Division (3 Dywizja Strzelców Polskich / 3éme Division Polonaise)
General Petitdenage
II Polish Corps - General de Mondesire
6th Rifle Division (6 Dywizja Strzelców Polskich / 3éme Division Polonaise)
General de Champeaux
7th Rifle Division (7 Dywizja Strzelców Polskich / 7éme Division Polonaise)
General Bonin
Training Division - cadre (Dywizja Instrukcyjna)
III Polish Corps - Formed in Russia and remained in Siberia and the Ukraine until late 1919
4th Rifle Division (4 Dywizja Strzelców Polskich)
General Lucian Zeligowski
5th Rifle Division (5 Dywizja Strzelców Polskich)
General Walwerjan Czuma
Additionally at this time there were seven squadrons of airplanes, a tank regiment and supply regiments. Estimated total strength at 108,000 men. This is estimated because it was not known how many men were in the 4th and 5th divisions.
Arrival in Poland in 1919
Ironically enough, the Haller Army only existed officially for about seven months from October 1918 to around May 1919 at which point it was dispersed into the existing Polish Army. The Polish Army badly needed the men and equipment of the Haller Army. They were the only fighting force in Poland that was up to the standards, training and equipment levels of WWI forces.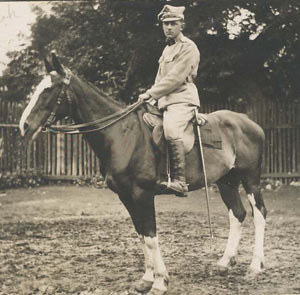 General Haller had been assured 6 months of independent action for his men, but this was not to be. Even before they arrived plans had been made to incorporate the Haller Army into the Polish forces. Haller was made Inspector General of all the volunteer forces with his headquarters in in Lublin. Initially his men were to be used only as reinforcements for the fighting against the Ukrainians at the Volhynia / Galicia front lines.
The bulk of the volunteers from America made up the the first three regiments of the 1st Polish Infantry Division in France. Upon arrival in Poland they were reorganized into the 43rd Kresowy Infantry Rifle Regiment, the 44th Kresowy Infantry Rifle Regiment and the 45th Kresowy Infantry Rifle Regiment of the 13th Infantry Division of the Second Army Corps. The 8th regiment was also moved into the 50th Kresowy Regiment.
There is some discussion over why, but around this time the American volunteers were fairly rapidly demobilized and sent back to the America. Shortly after their arrival in Poland around 1,000 of the volunteers from America were demobilized and kept in camp at Skierniewice. They spent a year at this location while transportation arrangements were made to return them to America. As time continued through 1920 more and more of the volunteers including NCO's from America were transferred from the 13th division to this camp.
While some were eager to quit the army and return home to America, most were very frustrated. At the time the fighting was still raging with the Soviets and all able bodied men were being called to the army. The main theory is that Pilsudski was concerned about a possible coup from his main political rival, Roman Dmowski and his followers. The volunteers from America may have been perceived as having more loyalty to Dmowski due to his role in helping form the Haller Army in France.
One problem was the fact that the Polish government was fighting a war and had no money or resources to send the men back to America. Arrangements and funding had to come from America.
More to come soon...
This page is under constant revision so please bear with any errors or omissions. If you would like to add something or point out an error please contact me.