Haller Army Cemetery & Memorial
Niagara on the Lake, Canada
ST. VINCENT DE PAUL CEMETERY
ONTARIO, CANADA

Memorial to the 26 Polish recruits who died during training when influenza broke out in the Tadeuz Kosciuszko Camp. Camp Kosciuszko was the primary location where around 22,000 Polish volunteers were processed and trained during the war effort.
Photos courtesy of Terry Polewski.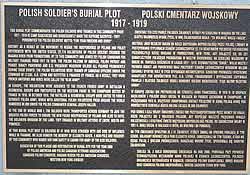 Click for a larger version
Sponsored Items:
Kosciuszko Squadron Model Plane